Last year I started a new tradition at our house, one that we are continuing this year. I created an envelope banner to hang on our fireplace to display and hold the index cards we write on. Each night at dinner during the month of November we talk about and write down what we are thankful for. I saved the cards from last year so we can read back through them this year. My children are little, so it is interesting to see what they've come up with.
There is an envelope for each day of November and inside each envelope is a decorated index card. The banner is held together with a ribbon that is stapled across the back of each envelope. I used thumb tacks pushed through the ribbon to attach it to our mantel.
"We Give Thanks" Envelope Banner
Supplies for Envelope Banner:
30 – 4×6 Index Cards
Pocket envelopes
Labels
Photo pockets
Stamps – woodland shapes & alphabet letters
Stamping Ink
Paper Cutter
Circle Paper Punch (1″ or smaller)
Corner Rounder Paper Punch
Tape Runner or Double Sided Tape or Glue
Scissors
Assortment of Ribbon
3 Yards of Ribbon
Stapler
*For a detailed list of my personal supplies used, visit my website.
To make your banner you will need to start by creating your envelopes. To save on cost I cut some of the pocket envelopes in half to create two envelopes. Let me step you through what I did.
Instructions:
4.5×9 Scalloped Pocket Envelopes and 5×7 Envelopes
1. Using the 4.5×9 Scalloped Pocket Envelopes and the 5×7 Envelopes (envelopes only – not pockets), cut each one in half.
2. Use your circle punch and punch out a half circle out of the top, center of the envelope.
3. You will be able to use the index cards without trimming for the 4.5×4.5 envelopes you made. For the 5×3.5 envelopes you created, cut 2 or so inches off the long end of each index card.
4. Use the corner rounder paper punch to round each corner of your index cards.
5. Use stamps and ribbon to decorate each card.
4×6 Photo Pockets
6. Using the 4×6 Photo Pockets add a thin line of adhesive to each side of the flap and fold up to create a pocket. Follow Steps 4 and 5 to finish. See close-ups of banner for stamping ideas.
5×7 Photo Pockets
7. Using the 5×7 Photo Pockets, cut them on the fold.
8. Take the larger piece and fold it in half. Take the smaller piece and fold it in half, the scalloped edge should be along the top. Add a thin line of adhesive on the side and along the bottom, adhere together to create a pocket.
9. Trim the index cards to the appropriate width to fit into each pocket.
Follow Steps 4 and 5 to finish. See close-ups of banner for stamping ideas.
To Assemble Banner:
10. Lay out all your envelopes on the floor and arrange them in the order you want them.
11. Start on one end and lay the ribbon across the back of the first envelope. Staple the ribbon to the envelope. Continue on to the next envelope, leave a very small amount of space between each envelope.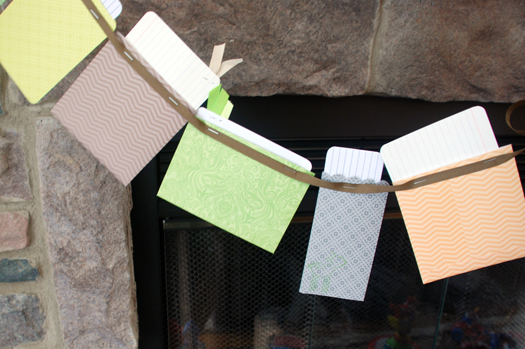 12. When all your envelopes are stapled to your ribbon, hang the banner along your mantel. You could also hang it on a large wall in two rows or along your staircase banister.
Now it's ready to display for the fall season, especially with Thanksgiving just around the corner.
Alanna began her career as a Design Manager in the scrapbooking industry. After the birth of her first daughter she turned freelance designer, crafter and stay-at-home mom. She resides in Michigan with her husband and their four kids (2 girls and 2 boys). You can find more crafting ideas and how to's at her blog, Alanna George | The Craft Nest.