Those sneaky little leprechauns have hidden our gold and we're on a hunt to find it! We made this simple black fabric sack full of "gold" and are looking for where it went. We're hoping to find it before St. Patrick's Day!
Supplies for Sack of Gold:
black fabric – 8 inch square. No need to sew the sides, I kept it frayed.
gold – chocolates, yellow paper circles, or plastic gold coins
yellow ribbon – 10-12 inches long
Place your gold in the center of the fabric. Scoop up each corner and scrunch it at the top. Wrap and tie around the yellow ribbon, securing the gold in place.
Now find the gold! Or you can hide the gold. Pretend to be the leprechaun, letting each child take a turn to hide the "pot of gold".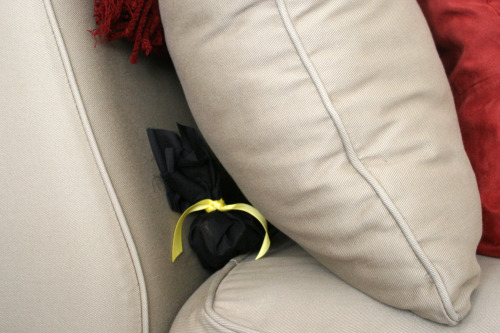 Have fun hiding and finding, then enjoy your gold spoils!