I have such mixed feelings about Valentine's Day.  I love boxes of candy.  I love roses.  I love the pink and red combo.  I love cards.  I love cute, homemade stuff.  I love my kids.  I love my husband.  I should love Valentine's Day, right?  Well, I do.  Really, I do.  But, I don't really love the thought of giving more toys, right after Christmas.  I'm kinda over that…so, I usually give the kids a new book.  And, I'm out of gift ideas for the husband, I used every one of them for Christmas, and his birthday that's just four days before.  Rough life, I know.  See what I mean about mixed feelings?  It's like, "oooh, fun!" and "ugh" all jumbled together.
Hey, remember when kids used to secretly leave Valentines at your door?  They would ring the door bell and run away, remember??  That was awesome.  What happened to that??  Or, is it still around, and I just haven't clued into the fact that I'm the only one not getting secret Valentines?  Maybe y'all have piles and piles of love notes covering your door steps.  Sad.
Anyhoo, something else that I love is traditions.  So far, on Valentine's, the kids will have a treasure hunt, with clues written on hearts that lead them all around the house, until at last they find their new book and a little treat.  We also write a card/love note to each one of them, to include with their Valentine. (I blogged about it, here.) It's way fun, but that's pretty much the extent of our festivities…so, I decided that I would come up with a new tradition, to prolong the whole love theme, so it lasts the rest of the day.   After that, they're back to being called "little terd-butts," until Valentine's Day rolls around again.  Just kidding.  Juuuuuuust kidding.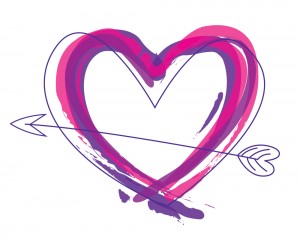 So, here's what I'm thinking we'll do this year…
I'm going to type up a paper, as follows:
For breakfast, I love…
For lunch, I love…
For dinner, I love…
For snack, I love…
To drink, I love…
To read, I love…
To watch, I love…
To play, I love…
I'll cut them into little wordstrips, and put them in a bag.  A couple days before Valentine's Day, I will have every kid draw out two papers, without showing anyone else.  I'll probably add a couple duplicates of "to read" and "to play," since I have a plethora of children.  The kids will then need to fill in the blanks, and give them back to me, so I can start planning our Valentine's Day.  I want to fill the whole day, doing things that are LOVED, by different family members.
So, for all I know we could be eating Cookie Crisp for breakfast, Cookie Crisp for lunch, and McDonalds for dinner.  Snack might be beef jerky, and Bug Juice to drink.  We'll probably read something like 'Go Away' Big Green Monster, play bowling on the Kinect, and watch iCarly.  But, I don't care.  It will be awesome, because everyone will get a couple things that they love.  And, Valentine's is about love, right?  Or, was it chocolate?  I get mixed up.
To jazz it up, I'm thinking of not telling who picked the designated food or activity, and having everyone take a guess.  Maybe whomever gets the most guesses right, will win an extra little Valentine.  Or, maybe just a love tap.  And, of course we'll still do our traditional Valentine's treasure hunt.
I'm excited.
Do you have any fun Valentine's traditions??