This is not a joke. I double-chocolate-bunny-dare you to think beyond plastic pastel eggs coupled with yellow and pink Peeps this year and incorporate a little more green into your celebration of Spring for an Ecological Easter. Let's give our Easter baskets a makeover!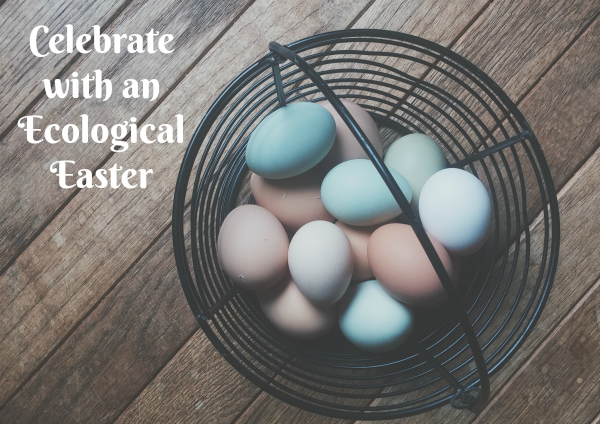 An Ecological Easter
The Grass is Always Greener
It's unfortunate that so many of us associate that creepy faux-green-plastic "grass" with a holiday celebrating new life and spring. Why not get back to nature's original basket-filler and grow your own? It was actually Marie that first turned me on to the idea. Check out this excellent Make and Takes tutorial on growing wheat grass. We've had great results and it grows so fast you can start today and make the March 31st deadline.
Egg-celent Ideas
Last Easter Huffington Post ran a great "round-up" article touching on the hazards and harms of toxic food-dyes with some killer suggestions for natural egg dying. At our house, we've seen success with beet juice and grape juice, but I can already tell their suggestion for 'tumeric' is going to provide a much more vibrant colored egg than boiling the 'incredible edible' with carrots (smh). Also, it probably goes without saying, but the first year we tried this we only had brown eggs on hand. Obviously the dyes are brighter with white. I was new to the natural dying scene, cut me a little slack.
Think Outside the Candy Box
Another thing to think about when it comes to Easter Baskets is of course, what goes inside. In addition to the candy, my parents (I mean, the giant bunny), always included strawberries and other fun fruits in our baskets. This year, I'm opting for organic strawberries (Costco has had AMAZING organic ones lately that we've been enjoying), and trying to find some local products to decorate my kids haul.
I also commit to resisting Dollar-Store-Find-Fever. You know: succumbing to the urge to buy a bunch of stuff that appears cute and to be a steal, when it's ultimately cheap "goods" that will end up in a landfill before the last marshmallow chick can say peep.
I know you're full of spring-time family fun this time of year. Celebrate with an ecological Easter!
photo by Autumn Mott