I am excited for you all to learn how to make her Beaded Bookmark. It is elegant and charming, the perfect gift to give this Christmas.
Beautiful Beaded Bookmark
Supplies:
Silk thread
Four crimp beads
Beading needle
Beads
Spacers
Charm
Needle nose pliers
A ruler to measure
Take your silk thread and cut to the length of 12 inches. Thread the beading needle. String on a charm and then a crimp bead. Loop around the charm and double back through the crimp bead. Pull tight so charm is secure. Now smash the crimp with needle nose pliers. Now that one end is stopped and beads won't fall through, thread the beading needle on the other end. Next start adding your beads in any pattern you want. Bead about 1 inch to an 1 1/2 inches up. Add another crimp bead and slide it down to the last bead, pulling tight, and smash it to hold the beads secure in place.
Figure out how long you want your bookmark to have the beads fall over the top and the bottom of the book. Slide another crimp bead on the thread and crimp it in the place that you want, leaving enough space between each end of the thread. This will suspend the beads and leave the open space you need. Add another pattern of beads however you like. Place your last crimp bead on the thread last. Push it down so the beads are snug. Double back through the crimp bead with the needle. Pull through until you have a very small loop at the end and now smash the crimp bead.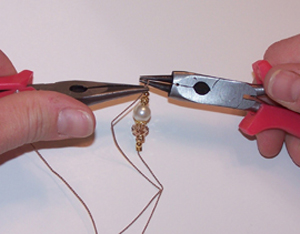 You now have your completed bookmark. Your bookmark should have a dangle at each end when the book is shut. This is a great gift with your favorite book or a journal. You could even personalize it to match the person you are giving it to or even the theme of the book. This charm was from an old piece from my great grandmother. I think it is fun to use old stuff for a different use. If you have an old piece of jewelry you never wear, take it apart and make something new.
Thanks Megan, for a fabulous Make and Take. If you would like to be a Guest Make and Taker, leave a comment or go to my contact page and let me know! Megan. She loves to craft and is addicted to Roberts, but who isn't.