Mary's contrary, but how does your garden grow? It's our third year with planter boxes; though the strawberry patch, rhubarb, grape vine and fruit trees have been serving up delights since we bought the property. Another "amusement" we inherited is the mint patch that now consumes a third of the backyard lawn. I don't mind, because our "grass" is green and it smells divine every time the hubs mows; but a man loves his lawn, and I think he sees the "weeds" on his proverbial turf as an attack on his manhood.
But I digress. We're in full garden mode here, already enjoying some of the fruits (and veggies) of our labors. And while I am NOT an expert gardener, there are plenty of lessons I've learned along the way. I share a few below.
Lessons Learned in the Garden
Photo: First Lavender Harvest of the Year
Apples of the Earth
In France,  pomme de terre, (i.e. apple from earth); we say potato. These tubers are so versatile AND fairly easy to grow. One of their best attributes also happens to be the downfall for many gardens: because potatoes, like the Beastie Boys, Fight for their right to party. They work for the soil – often making it hard for other things to grow. Many a tomato-plant has been less than fruitful because of Mr. Potato Head's proximity.
We move the location for potato planting in our yard each year. I see it as pesticide-free weed killer; clearing out space and reducing weeding time, especially in the early spring and fall. Plus, harvest time with potatoes is like magic — my three-year old calls it "digging for dinosaur bones."
Corn (Sugar) is so Sweet
So I get a kick out of the Corn lobbyists trying to rename HFCS "Corn Sugar" as if it's going to make it any less offensive to the general public. I'm not anti-corn. I love a good locally grown sweet corn in the summer on the porch or at a picnic, but those are distinctly different things. Years ago I tried to grow corn, planting about 15 kernels in one long row. What I didn't know is that corn has a better chance to cross-pollinate when it's planted in blocks, (instead of my line). I won't make that mistake again.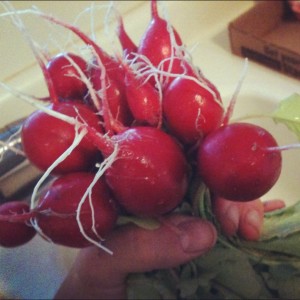 Radishes & Carrots, or the Tortoise and the Hare of Your Garden
Carrots are a lesson in patience. In fact, my first year trying carrots it took so long for me to see any hint of progress from their tiny seeds, I started planting other things in their plot just because I couldn't tell if anything was growing. Enter the radishes: these grow so fast, and are such a quick return they make a great veggie for kids gardens and wonderful to plant beside your carrots so you know where they're supposed to be growing. Hard to believe these started from seed.
So what lessons have you learned from your garden? Someone please share the secret to a thriving basil plant…