I started swimming competitively when I was ten years old. Twenty five years later–after Country Club Meets, swim team in high school and a few triathlons in my history–I can also add more than 10 years teaching safe swimmers lessons during the summer as part of my resume.
During that time, I've seen first hand how water independence can help boost self-esteem in children and provide amazing opportunities for making memories with families at the pool.
5 Safe Swimmers Tips for Family Fun
Some of my favorite teaching 'tricks' include:
SAFETY FIRST! Just like airplane safety announcements, make sure kids know the safest places are in the pool: whether on a step, where the shallow end is, holding onto the side of the pool or being relaxed and floating on their back or tummy. Practice "walking feet" around the perimeter of the pool to prevent slips and unnecessary stitches; and perhaps adopt the rule "that we don't touch people in the water unless they can reach with both feet planted on the bottom of the pool."
Cold Water Can Lead to Cold Feet. You may not have control over the water temperature of a public pool, but you've probably noticed kids relax easier in water when they're not shaking. Kids warm up easier in warmer water.
Blowing Bubbles May Be For the Birds. I stopped teaching kids to blow bubbles in the water when I realized it's not really a practical skill for swimming. (Although, it can be fun so I don't think there's harm in doing it). Try finding simple objects on a step or a shallow place in the pool with their "eyes in the water" and eventually floating.
Body Position Breeds Safe Swimmers. Whether it's "jumps" with eyes in the water or pushing off the wall and gliding for the older kids, getting the body to plane while kicking is the easiest way to teach the right fundamentals for swimming (for both freestyle and backstroke). Have them fly like Superman (or favorite superhero) with both arms forward. Most kids will naturally kick (and arms are fairly easy to add), once their comfortable with their face in the water gliding.
Monkeys, Airplanes & Soldiers: Oh my! For back floating and an easy way to teach Elementary Backstroke, I like "Monkey-Airplane-Soldier" (or up, out, together.) Have kids lie on their backs while you hold them first around their chest using your shoulder as a pillow to rest their heads; and have them come to a relaxed airplane (or starfish) position.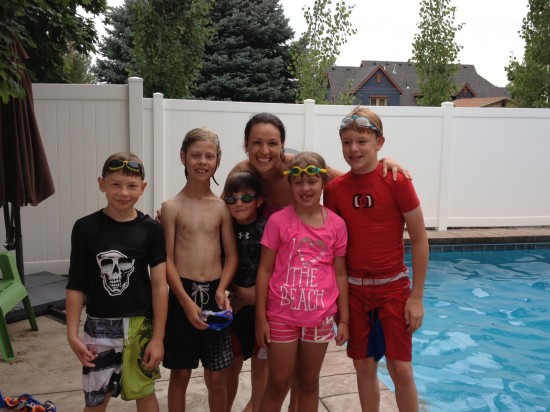 Next to safety, the most important piece to raising competent safe swimmers is to have FUN!