Decorate your house with one of these chic and trendy hanging planters. Choose your favorite plants and hang them somewhere in your home with lots of light. I've found 21 DIY hanging planters that you can make at home to add a little greenery. How fun does that sound? Keep them for yourself or wrap them up and deliver to a friend who loves flowers and gardening.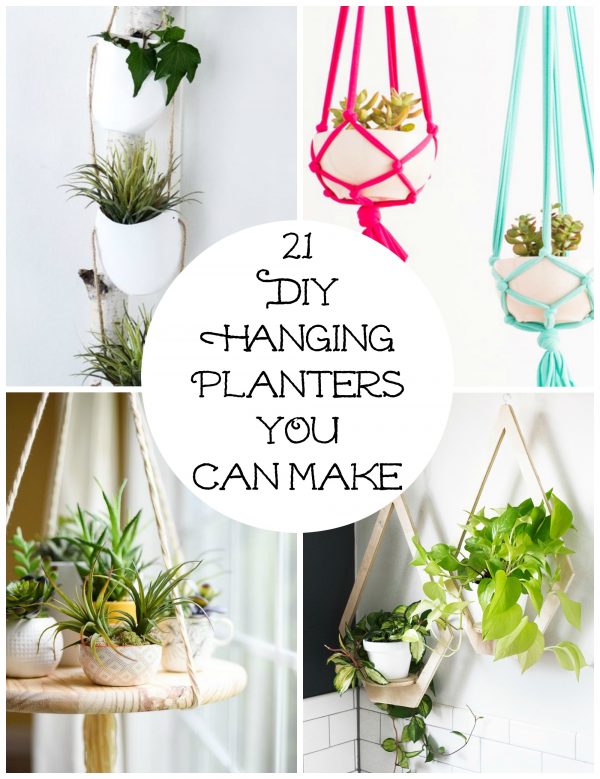 21 DIY Hanging Planters YOU Can Make
1. Wooden Box Hanging Planter: Talk about a wow-statement! These hanging planters are simple to make and look amazing on a wall. (via A Beautiful Mess)
2. DIY Macrame Hanging Planter: this projects keeps on giving with 2 projects in 1! (via Make and Takes)
3. Wood Slice and Rope Hanging Planter: Keep your plants up and out of the way with this super easy wood slice hanger. (via The Summery Umbrella)
4. DIY Floating Shelf: You can make this floating shelf with just a few supplies. You'll stay in your budget too. (via Hometalk)
5. DIY Plywood Hanging Planter: How gorgeous are these diamond shaped hanging planters? They're easier to make then they look. (via Deuce Cities Henhouse)
6. Make a Driftwood Hanging Planter: This driftwood hanging planter is way easier to make than it looks. We actually used a lot of things that we already had and the project only cost us $15 in plants to bring it all together. (via Make and Takes)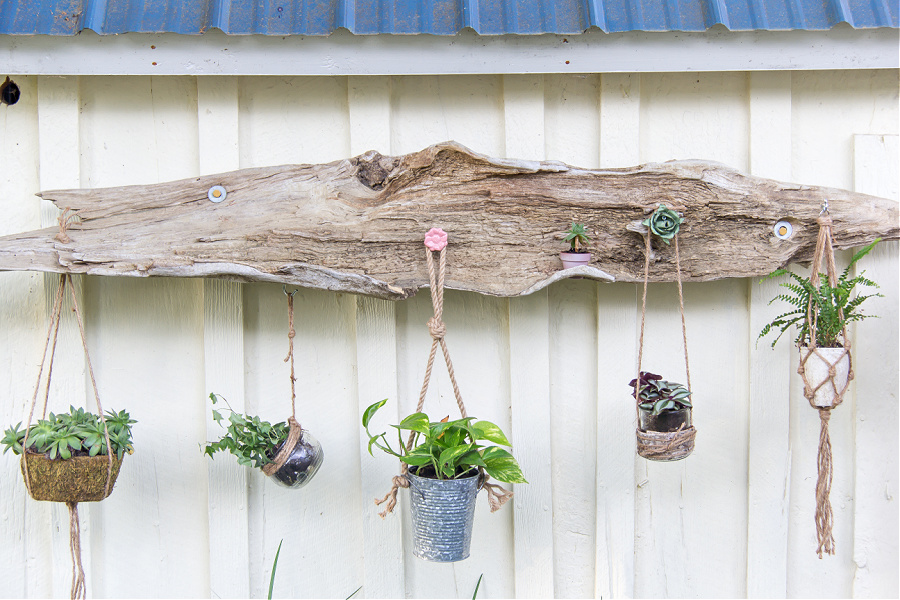 7. DIY Mason Jar Hanging Herb Planter: Plant your own herbs in your home with these darling mason jar platers. (via Ramshackle Glam)
8. Modern DIY Hanging Planter: Can you believe that this hanging planter is made from recycled plastic bottles? You have to make this! (via eHow)
More DIY Hanging Planters to make:
9. DIY Modern Hanging Planter: This gorgeous planter is made from an embroidery hoop! How easy it that? (via Northstory)
10. Plant Hanger From Fabric Strips: Use leftover fabric strips to make this plant hanger. Hang it in your home or outside on your porch. (via Gleeful Things)
11. Wood Planter: This hanging wood planter is simple, yet elegant, and would look great in anyone's house. (via Shanty 2 Chic)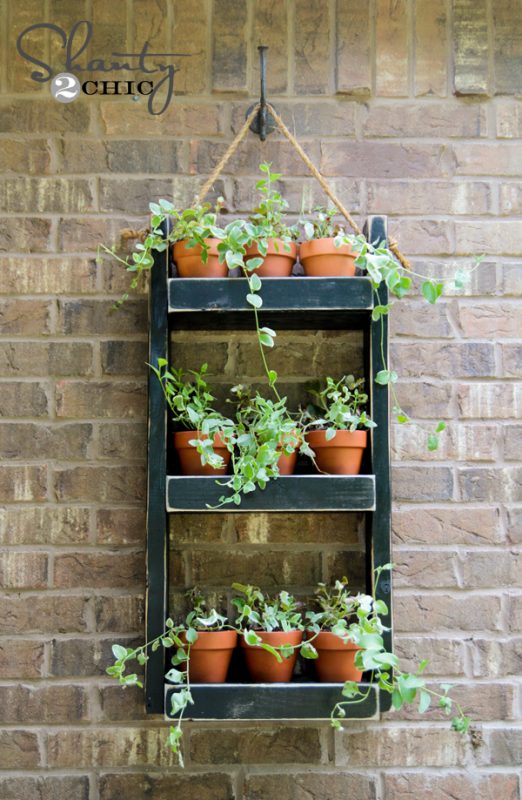 12. Disco Ball Hanging Planter: I need this disco ball planter in my life. It's so much fun!! (via A Beautiful Mess)


13. Triangle Planter: You can make this beautiful copper geometric planter to decorate your home. (via Another Big Bite)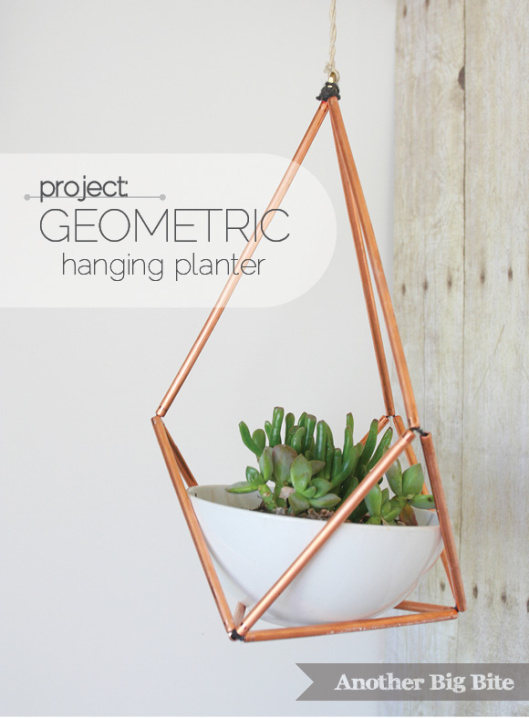 More DIY Hanging Planters
14. Leather Sling Hanging Planter: Keep the floor clear with this lovely leather planter. It's modern, easy to make, and brightens up any space. (via A Designer At Home)
15. Easy Hanging Planter DIY: Use metal bowls to make these cool hanging planters. (via A Beautiful Mess)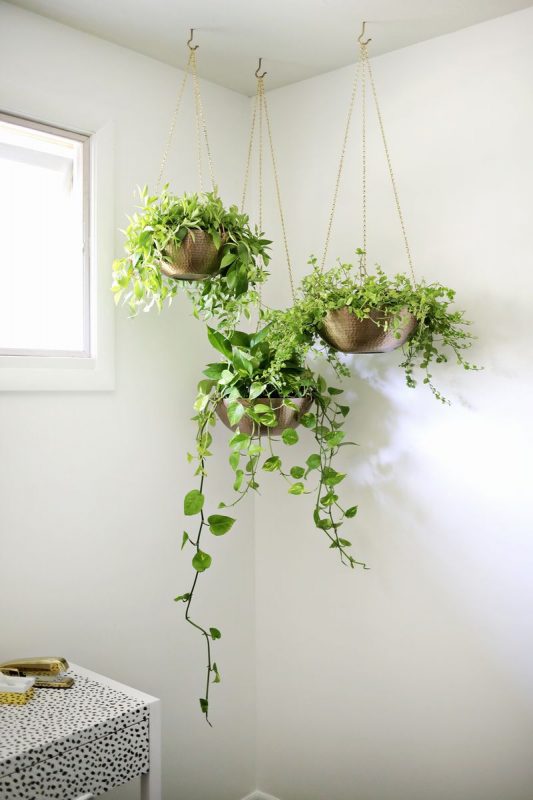 16. Hanging Planter Hack: This $5 hanging planter hack is easy on your budget and time. (via Paper and Stitch)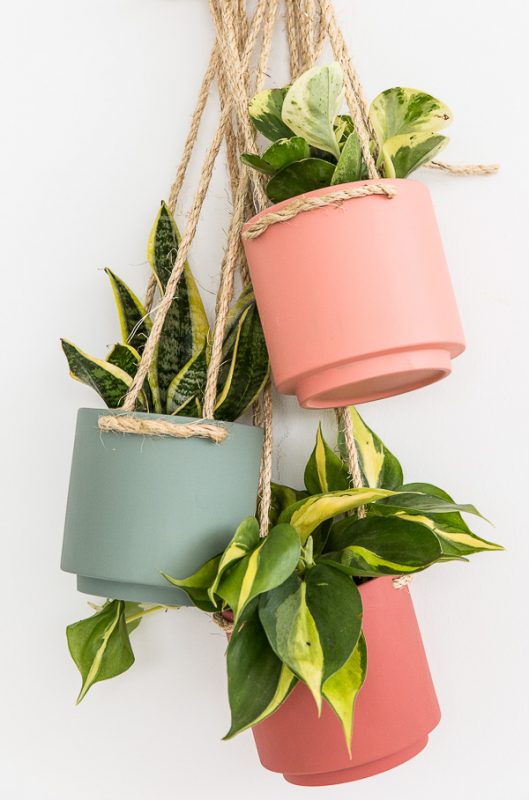 17. DIY Planter With A Pair & A Spare: I love this leather DIY planter. Place your potted plant in the center of the leather and hang it in your home. (via BLDG 25)
18. DIY Crescent Moon Hanging Planter: Wouldn't this moon planter look cute in a baby nursery? I love the crescent moon shape of the pot. (via diys.com)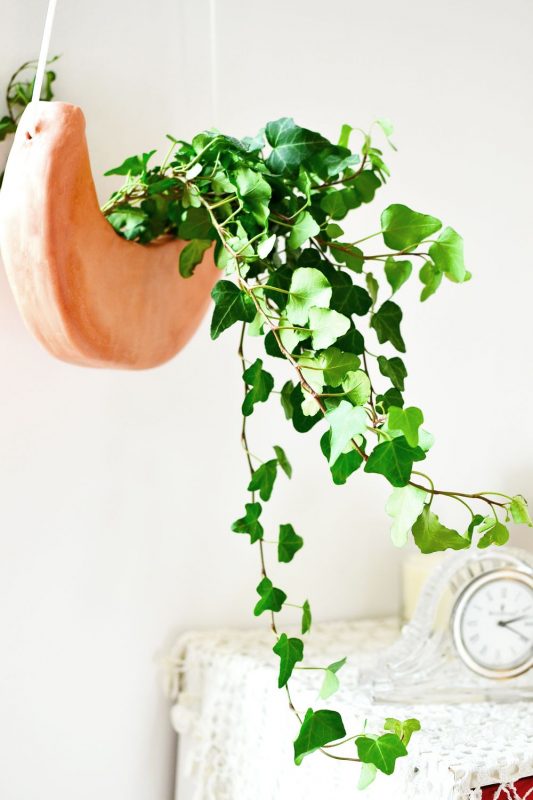 19. Hanging Planter Shelf: This horizontal planter shelf is perfect for a minimalist. It's simple and beautiful. (via Curbly)
20. Crochet Boho Plant Hanger: Learn the basics of crocheting to make this cozy plant hanger – Boho Style (via Curbly)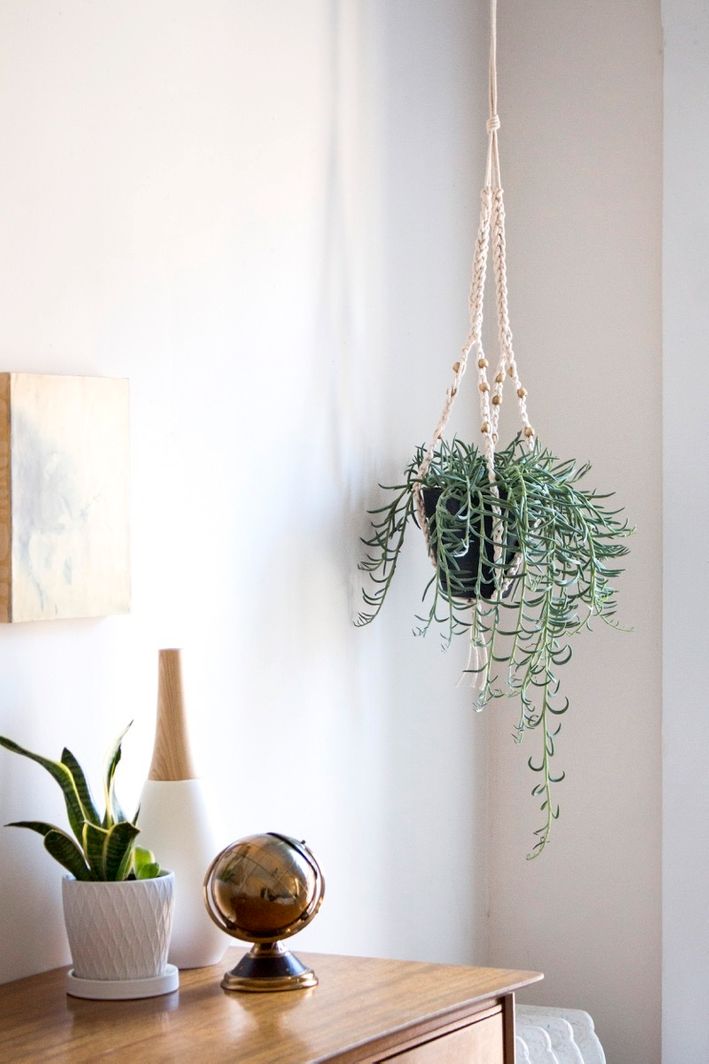 21. Recycled Water Bottles Hanger: This is a great recycled craft for a rainy afternoon. (via Momtastic)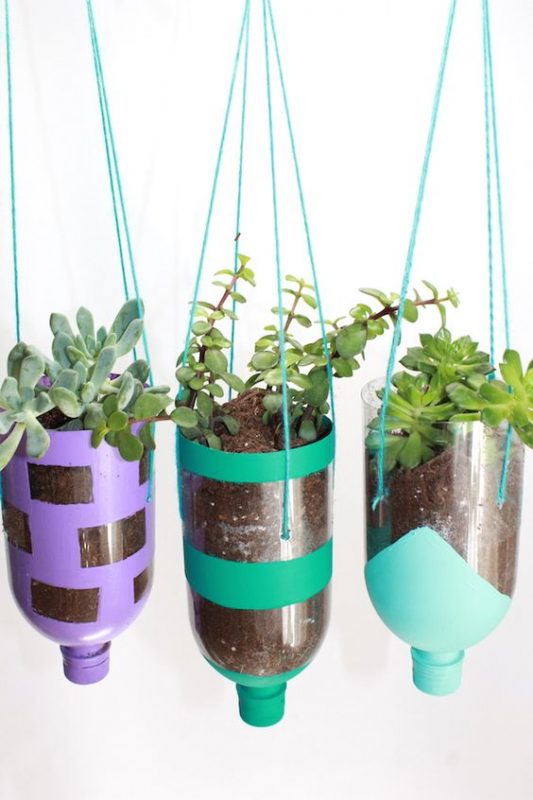 Keep those floors clear and hang your plants from the ceiling. I love all of the beautiful DIYs. Which one will you choose to make?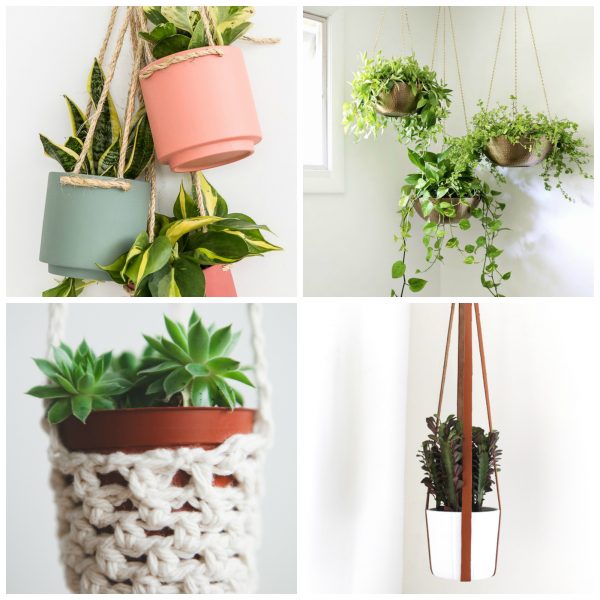 Follow us on Pinterest for more inspiration!
Originally posted 6/23/17