Here's a fun drawing game to play with your kiddos – we named it Pick an Object, Pick a Scene. The basic idea is that you have to figure out how to incorporate a random object (or person, animal, food, etc.) into a given scene. With about 5 minutes of set-up, and some paper and crayons, you'll be ready to play this silly drawing game.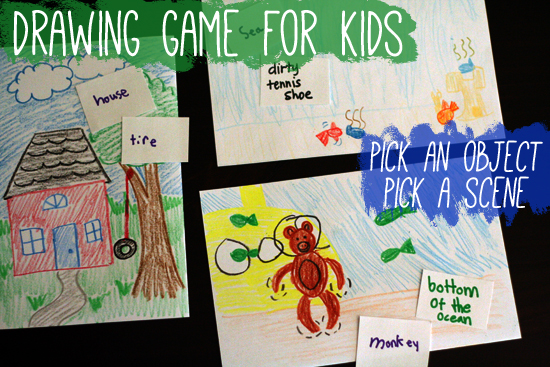 Drawing Game for Kids: Pick an Object, Pick a Scene
Instructions:
Your first job is to think of scenes and objects and write them on small slips of paper. The kids can write their own, or dictate their ideas to a grown-up. The more random the objects, the better! You might end up drawing a scuba-diving monkey at the bottom of the ocean or Santa Claus shopping at the grocery store.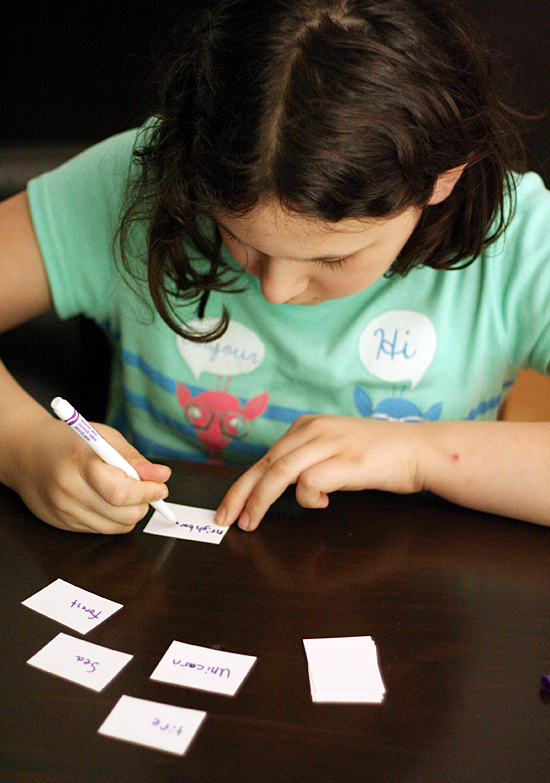 Here are the scenes and objects we came up with in our quick brainstorming session. Looks like we could be drawing an octopus in Paris or a hot dog in an enchanted garden!
Put all the scene cards in one paper bag, and the object cards in another. Everyone draws one of each card and starts drawing.
We drew on pieces of printer paper, folded in half. That way, we could fit 4 rounds on one sheet of paper (front and back), and not spend too much time on any one drawing. Here is one of our rounds, with a clown picnicking in Paris, elephants driving through a neighborhood, and a space bird hanging out in his bird bath on the moon.
And another round, featuring a hot dog cart at school, a space forest with a flaming comet, and a giant hamburger going down the slide at the park. Fun, right? These cards and drawings would be great story-writing inspiration, too!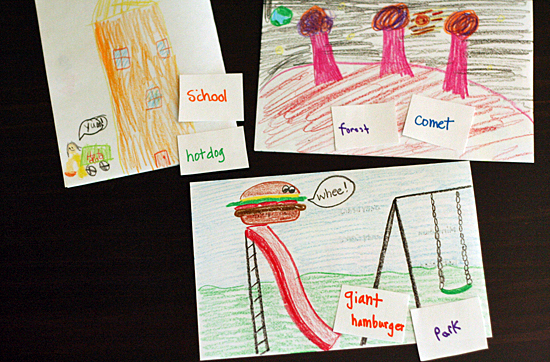 You could easily play this game on-the-go as well. Forget the cards and just tell each other objects and scenes to draw – perfect for in the car or waiting in a restaurant.
Happy drawing and playing!