Hello my pretties! I am in an absolute stupor as I write — Christmas is just four days away?!?! I trust that amidst the red holly wreaths and mistletoe you're finding new and creative ways to get a little more green in your Holiday cheer. Since Santa's big night is just around the corner, that means that New Years Resolutions will be coming soon too. Well, I've got one for you and yours to start thinking about now with fashion, because by the time we're reunited to talk environmental-shop it will be next year.
Ok, so if the phrase "Make Christmas the Whole Year Through," rings a (silver) bell, I challenge you to make it Fashion Week all year — with mother earth in mind. One of the best ways to do it, without breaking the bank, is getting over the need for NEW, and just going for FABU.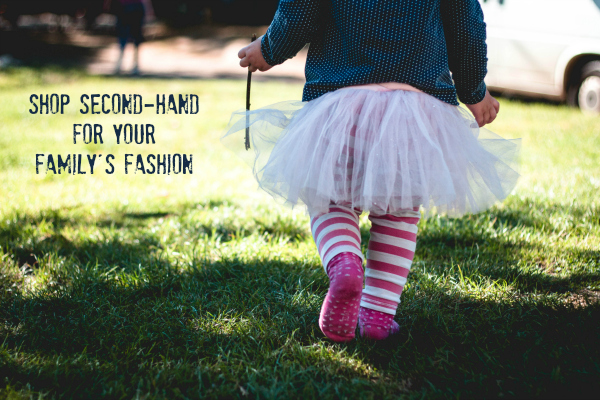 Your Family's Fashion
You may not believe it, but in my past life (pre kids and stay-at-home-momness) I read InStyle religiously, tried my best to live fashion-forward and had a nasty affinity for designer handbags. I liked to "play-green" when it was convenient and fun to do. But marriage and kids taught me en Vogue is taking into account the bigger picture — namely, what my choices mean for our planet.
Admittedly, I'm not making it on the catwalk anytime soon. (Sing it with me friends: I'm too sexy for capri's, to sexy for mom-jeans…) And part of that is the reality that  my wardrobe takes second fiddle to dressing my little ones.
With my 12 month old is already in 2 – 3T and my 3 year old is in size 6 shirts, I am grateful organic onesies and bamboo socks are not the only way to green up a closet. Because kids grow fast, and mine seem to be on HGH. Regardless, it's hard to justify buying clothes that will be only worn for a couple of months.
So this is where the season of giving makes me especially thankful to be the recipient of  hand-me-downs, and my recent discovery of specialized second-hand kids shops. Because of the generosity of family and friends, my kids and I have been blessed to received boxes and bags full of fabulous clothing that (I am sure) is pleased to get a second life. When I think my kids 'need' something, I try to avoid hitting up Carter's or Target first, and instead try out a specialized kids-thrift store first.
And when I do get that itch to shop and splurge on something I think my little girl with the curls just "has" to have, I already know I'll be paying it forward and make sure the piece is given a second home.
Did I mention shopping second-hand is a GREAT way to save money if a budget makeover is on your New Year's list of resolutions?
photo: via Marjorie Bertrand
photo: via Sabrena Suite-Mangum – Oh thank you for joining us Ralph Lauren. We're glad to give you a second home.